The best way to keep your home cozy and warm is with the correct insulation. When thinking about insulation most people would envision rock wool or fibreglass when insulating their home. However, there are much more effective materials available such as EcoQuilt Expert MultiFoil Insulation.
Something that's causing concern to many this year is keeping the cost of our domestic energy bills down. EcoQuilt Expert is an inexpensive MultiFoil insulation that can be used throughout your home, it will help decrease the amount you're spending on your energy bills. It's simple to install and very effective at reflecting heat into your home during the winter. Another major benefit is that it'll reflect excess heat away from your home during the summer so your home will be at a much more comfortable temperature all year round.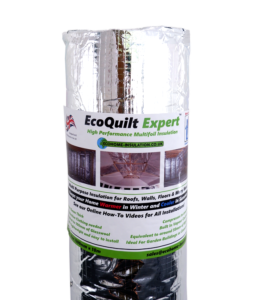 What sets EcoQuilt Expert apart from other Insulation Alternatives?
There are three ways that heat can transfer these are convection, conduction, and radiation. EcoQuilt Expert will block all three of these ways heat can escape your home. 
EcoQuilt Expert is the best suited for new builds retrofits, and DIY projects. Unlike other types of insulation, EcoQuilt Expert can be used anywhere within your home. This includes:
Walls 
Attics 
Floors 
Roofs 
Conservatories 
Garden Buildings 
Caravans
There are many more places EcoQuilt Expert Can be used. If you do have any left over there's always somewhere it can be used so it'll never go to waste. Other types of insulation like foam, spray, fibreglass, and foamboard are all excellent forms of insulation. However, they have very specific areas in which they can be used in your home. None of them can be used in all areas of your home. 
What Other Benefits are There to EcoQuilt Expert?
Did you know that the majority of building materials including stone, wood, and brick absorb about 90% of infrared energy? However EcoQuilt Expert along with other types of multifoil insulation does not absorb this energy and reflects it into your home due to its reflective outer layer. 
The reflective coating on EcoQuilt Expert can also be used as a vapour control barrier once it's taped and sealed using ThermaSeal Foil Joining Tape. This protects your home from moisture and condensation building up. In comparison, insulation blankets and rolls do not have the benefits of a vapour barrier. This also means they can be damaged by condensation and dampness, which can lead them to deteriorate over time and affect their insulating qualities. 
How Easy is EcoQuilt Expert to Install?
EcoQuilt Expert has a very straightforward installation process that anyone can do you do not need professional installers for the job. Additionally, no specialist tools or Personal Protection Equipment needs to be purchased to fit this insulation. We have created a MultiFoil Insulation Fitting Kit which contains everything you need to install any type of MultiFoil Insulation including EcoQuilt Expert. Our websites also include a wide variety of fitting guides for different installation purposes to help you through the process. HERE is a link to our YouTube which has step by step videos for a more indepth tutorial on how to install EcoQuilt Expert. 
Alternative insulation like liquid foam, sometimes known as spray foam insulation, is sprayed into place where it hardens into an insulating layer. This can only be done by a professional installer, it's also very challenging to remove once it's in place. 
How Safe is EcoQuilt Expert?
You do not need any specific PPE to install EcoQuilt Expert! It does not contain any harmful fibers unlike Rock Wool or fibreglass insulation. These both contain fibres that cause skin irritation and breathing issues. If you are removing either of these types of insulations before laying EcoQuilt Expert we'd always recommend to wear a mask and gloves. 
Delivery and Contact Information 
We offer next working day delivery on all orders placed before 2 pm (UK Mainland) 
If you require any assistance you can contact us here  –  Request a callback  or  call u on this number 0114 323 0029