Having a conservatory is an amazing add-on to your home. Having an extra room to entertain friends, unwind in and enjoy as a family is a luxury. However, they can get incredibly cold during the winter and sweltering hot during the hottest summer days, which can limit the use of this room. This is why we've developed our conservatory insulation kit so you can use your conservatory all year round without the need to rely on expensive heaters during the winter. We've also come up with some extra tips to help maintain a comfortable temperature within your conservatory.
Insulating your conservatory is the best way to maintain the temperature in your conservatory. Most conservatories are made from a polycarbonate roof unfortunately this plastic-like material provides next to no insulation. Replacing your existing roof with a fully insulated one can be very costly but is a great option. Our insulation kit means you can insulate your existing roof without the cost of replacing it. This kit uses EcoQuilt Expert MultiFoil Insulation System. This works by reflecting heat into your conservatory during the winter and keeping the cold air out. During the summer it maintains a cool temperature inside and reflects excess heat away from the conservatory. This reduces the need for excess use of heating or electric heaters as well as artificial cooling systems which can save you on your energy bills.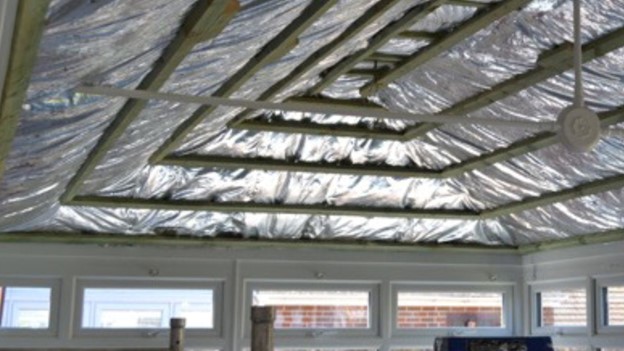 This can be used alongside our Conservatory Insulation Kit or on its own. It's a white opaque film that's applied to the glass roof of the conservatory that is budget-friendly and easy to apply yourself. The benefit of installing this window tint is that it reduces solar glare by 30%. When used with the insulation kit toy won't be able to see the silver multifoil insulation through the glass roof and it can help protect the insulation. If it's being used on its own it'll help protect your conservatory from the sun and it won't get as hot during the summer.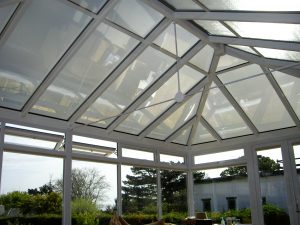 Conservatory Insulation Tips
Reduce draughts where possible! Especially during the winter draughts can let in a lot of cold air. Conservatories are notorious for becoming draughty over time. Check that all windows and doors are properly sealed and you can't feel any cold air entering the conservatory. If you do find some cold spots you just need to reseal them and youshould feel the benefit quickly.
Soft furnishings can make a massive difference as they do help to retain heat. This could include blinds, throws, rugs, and pillows. They can be incredibly practical and not just for show. Adding blinds can help protect the space from excessheat from the sun and during the winter they will help retain heat if you keep them closed when you have any heaters or radiators running. Additionally, it may be worthwhile to take the effort to cover furniture with throws and blankets to lessen the chilly effect of those surfaces, especially leather couches and chairs. A deep-pile carpet, specially-rated underlay, or floor tiles can help combat this, or if you're on a budget, a sizable rug would work just as well to provide a sense of cosiness.
Ensure that you'r using your heating effectively. There are many who advocate continuously running the heaters in your conservatory. We'll say it right now: those people are mistaken. If your conservatory has a convector radiator (a typical radiator), the heat will rise vertically and most of it will escape through the glass without even beginning to warm the space. As a result, it makes more sense to turn on the heater just when you actually need it; otherwise, you're wasting heat, increasing your energy costs and carbon impact.
HERE: DIY Insulation Kits • Ecohome Insulation (ecohome-insulation.com)
Get in touch if you need some professional insulation assistance from the experts.
We offer a FREE Nationwide Delivery before 2pm to the UK Mainland!
Order before 2 pm Monday – Friday, and receive free next working day delivery (UK Mainland)
Orders placed after 2 pm Friday, or over the weekend, are delivered Tuesday. (UK Mainland)